Every year the NFL is blessed with a star that no one saw coming. Phillip Lindsay last season and Kareem Hunt in 2017 are two of the most recent examples. And then every one in a while the NFL is blessed with an unexpected superstar, a king in the making. That man this year: Gardner Fucking Minshew. Minshew is enjoyable to watch, fun off the field, and so weird he somehow makes it cool. The dude already has endorsement offers flying in as well (see below). I fully plan on riding the Gardner Minshew hype until it eventually dies out – and I expect it to be a ton of fun.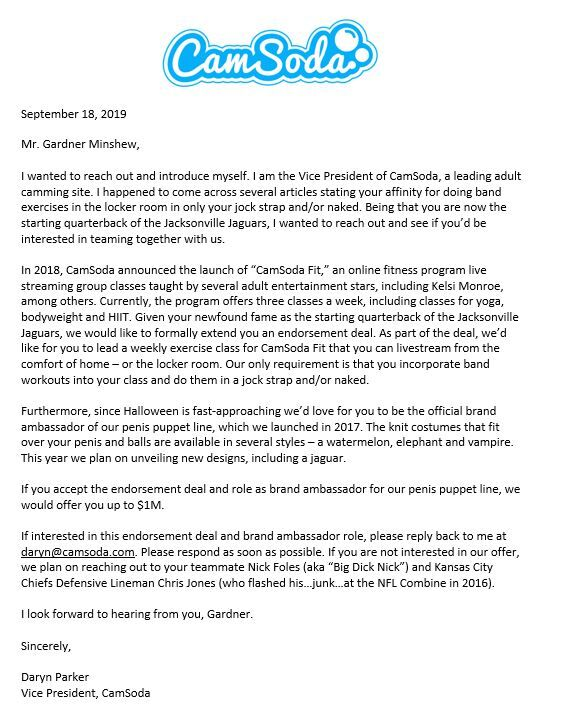 Happy Hump Day and welcome back to the PFF Efficiency, Numbers, Info, and Stats (better known as the PENIS). Hopefully the thought of Gardner Minshew with his jock strap and aviators on while dancing in the locker room has prepared you to take on the PENIS with me this week.
We're doing things a little bit differently than week 1. We're gonna play a game of guess who (hint, you already know who), Look Back At It 🍑 with some Week 2 facts and tidbits, I'll lube you up with some PENIS Prep for Week 3, and then we'll wrap it up with some accolades for Week 2. 
Guess Who:
Let's start this week's PENIS off with a little game. I'm gonna give you some QBs based off of stats and you need to guess who they are.
QB A: 44/73 (60.3% CMP), 610 YDs, 2 TDs, 4 INTs
QB B: 45/58 (77.6% CMP), 488 YDs, 3 TDs, 1 INT
QB C: 36/59 (61.0% CMP), 427 YDs, 3 TDs, 1 INT
One of these QBs was a late round selection and the other two were first rounders. The two first round QBs are widely believed to be two future elite QBs. Two of these guys are throwing to some of the best WRs in football while the other's top three WRs have about half of the career yards, receptions, TDs, etc of the other two receivers combined. So, guess who?
QB A: Baker Mayfield
QB B: Gardner Fucking Minshew
QB C: DeShaun Watson
I don't think Minshew is being talked about enough through his first two games. Has he been stellar? No. But for a young QB getting thrown into the fire because of an injury, he's been fantastic.
Look Back At It 🍑
 

– Week 2:
Gardner Minshew now has more touchdown passes then the following QBs combined: Drew Brees, Ben Roethlisberger, Mitchell Trubisky, Cam Newton
Philip Rivers had 5 dropped passes this past weekend.

The last time Rivers saw that many balls drop in a single afternoon he was 12 when all 5 of his balls dropped.

All 4 of Patrick Mahomes touchdowns this week came on passes of 20 yards or more. Mahomes went 7/11 for 257 yards and 4 TDs on deep pass attempts.
Cam Newton attempted 14 passes while under pressure. He managed to complete just 2 of those passes (completion % of 14.3%).
The only QBs with 32+ clean pocket drop backs without a TD on those drop backs: Andy Dalton and Cam Newton
Speaking of Dalton and Newton, they were 2 of the only 4 QBs to have a less than 70% adjusted completion % when kept clean.

I really didn't wanna shit on Cam this week. It just kinda happened that way.
I fully intended to shit on Dalton more than I did. There are actual Bengals fans who think Dalton is having an MVP type season.

Russell Wilson's average time to throw this week: 1.82 seconds.

That's insanely quick for throwing a football and a perfectly acceptable amount of time to last in bed.

Curtis Samuel was targeted 11 times by Cam Newton. Of those 11 targets, 5 were catchable. Not included in the uncatchable passes was a 44 yard gain by Samuel that could have been a touchdown if Newton led him properly.

Carolina Panthers' LT Daryl Williams couldn't block a traffic cone on Thursday night. He allowed 3 sacks, 1 hit, 4 hurries, and 8 pressures.
Atlanta Falcons CB Desmond Trufant was target 4 times, allowing 0 receptions and intercepting 2 passes.

On the season, Trufant has allowed just 1 catch for 6 yards.

Bucs CB Vernon Hargreaves allowed 10 catches on 11 targets for 133 yards. Giants CB DeAndre Baker allowed 7 catches on 9 targets for 140 yards and a touchdown.

The Giants and the Bucs play each other this week.
P.E.N.I.S. PREP FOR WEEK 3:
Speaking of DeAndre Baker, Breshad Perriman should be lined up with Baker in three wide receiver sets. Godwin will get Baker in two wide receiver sets. Janoris Jenkins will likely follow Mike Evans.

Perriman is a risky play in DFS play but if he can hit on some big plays vs Baker he could be gold.

Rayne Dakota Prescott has been pressured just 10 times in two weeks while finding the end zone 7 times. He now gets to play a Miami team that has allowed 102 points in their first two games.

I don't think anyone with the names Rain or Dakota in their name has ever scored in a single weekend the amount of times Dak is likely to score this weekend.
Start your Cowboys players in fantasy and pick Dallas in survivor. Not even someone named after Dakota Rain could choke this badly on something this week.

51.7% (137 yards) of Dalvin Cook's rushing yards are coming on just 4 runs of 20+ yards.

Minnesota is in the bottom 12 of yards before contact as an offensive line. At some point, Cook won't be able to hit big plays at the same rate he currently is and he'll fall back down to earth.
With that being said, Cook gets a mediocre Oakland run defense this week.

The Bengals are allowed a league leading 3.1 rushes inside the 5 yard line per game. Josh Allen has two rushing touchdowns on the season already. I fully expect him to add a third.
Minnesota Edge Rushers Everson Griffin and Danielle Hunter have 15 pressures EACH (T1 in the league with Packers' ER Za'Darius Smith). They've also combined for 7 hits and 3 sacks.

Minnesota gets Oakland at home this weekend.

Speaking of Minnesota, what the hell is wrong with Kirk Cousins?

Cousins is 22/42 (52.4%), 331 yards, 2 TDs, and 2 INTs.
Cousins ranks 38th in CMP%, 32nd in completions, and 30th in yards.
Cousins is also under pressure a league leading 60.9% of the time. Over 10% more than the next QB.

Larry Fitzgerald has 6 targets of 20+ yards through the first 2 games. He's brought in 4 of the 6 (4 were catchable) for 180 yards.

He is far and away Kyler Murray's favorite target.

The following teams are already starting a different QB than their expected 2019 Week 1 starter and it's Week 3:

Giants: Daniel Jones
Jets: Luke Falk

And that's after starting Trevor Siemian (RIP) Week 2.

Steelers: Mason Rudolph
Jaguars: Gardner Fucking Minshew
Colts: Jacoby Brissett
Saints: Teddy Bridgewater and Taysom Hill
Panthers: Kyle Allen

That's almost a quarter of the league and we all know Ryan Fitzpatrick will be benched soon and Carson Wentz will likely get hurt.
Mason Rudolph targeted Juju on 26.3% of his pass attempts after taking over for the injured Big Ben this week. That's almost 10% more than Big Ben targeted Juju.
John Ross Drop Tracker: 4 in 2019, 11 career drops
Since Cincinnati drafted John Ross 9th overall in 2017, Bengals' fans have tried to convince themselves that Ross has what it takes to be an elite receiver. I'm here to remind everyone that Ross still can't catch the damn football. I'll periodically bring back the John Ross Drop Tracker every week it seems necessary.
THE Accolades:
MONO MAN OF THE WEEK: Sam Darnold, NYJ
Sam Darnold's inability to keep his lips to himself has managed to totally ruin the Jets season. What 22 year old man catches mono? Grow up and get yourself a real man's disease like chlamydia or herpes.
Also, do your entire franchise a favor and kiss Adam Gase directly on the lips.
SLOT SHAMER OF THE WEEK: Cooper Kupp, LAR
A straight, white, male just feels right when it comes to handing out the slot shamer of the week. Kupp put on a show in Los Angeles with 5 catches and 120 yards out of the slot this week.
Quote of the Week: Jalen Ramsey, JAX(?)
"I want to fucking win. Excuse my language but shit, everybody knows that."
Classic watch your language joke by Ramsey👏👏👏
RUNNING BACK OF THE WEEK: Lamar Jackson, BAL
Ravens RB Lamar Jackson ran for 120 yard on 16 attempts this week to help the Ravens get to 2-0. Jackson is now averaging 6.6 yards per carry and has out gained the likes of David Johnson, Chris Carson, and Leonard Fourtnette this year.
DICK OF THE WEEK: Archie and Olivia Manning
This is 1000% premeditated Dick of the Week award. With Daniel Jones taking over the starting spot from Eli Manning, we all know something awful is about to happen to him. There's a track record of bad things happening to those who challenge the Mannings.
The Chargers took Eli even though he didn't wanna play in San Diego and the Mannings cursed the franchise with well known choker Philip Rivers. They ran McAdoo and Reese out of town when the two were ready to move on from Eli. Look at what happened to Kyle Lauletta last year when the Giants were struggling. He was hit with a speeding ticket, charged with eluding the police, and shamed by the entire fanbase.
Something awful is about to happen to Daniel Jones and Eli Manning will end up the Giants QB for the next 20 years.
If you made it this far, thanks for taking on the PENIS with me. See ya next hump day!