Folks, as this decade comes to a close it gives us a time to reflect on some of our favorite memories of the past ten years. In what has been a lackluster decade for the Giants franchise qualifying for the playoffs just twice, we at least won the Super Bowl one of the times we qualified.
Regardless of our success, or lack thereof for the better part of this decade, there have been some incredible players to put on Giants blue in the 2010's. Now these players are all going to be ranked based on their contributions in the 2010's only. So a player like Shaun O'Hara who had a great 2000's but only played 6 games for us in the 2010's won't be considered.
Let's get this list started.
1. QB Eli Manning (2010-Present)
Duh. The guy won a Super Bowl MVP this decade and he quite honestly didn't get enough league MVP consideration for his outstanding 2011 season where he threw for 4,933 yards, 29 touchdowns, and 16 interceptions. He also had 6 game winning drives in the 4th quarter that season which is a large reason why the team made the playoffs.
On top of that, Manning had two stellar seasons in 2014 and 2015 where the threw for 30+ touchdowns and 4,000+ yards in each of those seasons. His play has been deteriorating since the 2017 season but it's not even a remote doubt in anyone's mind that he was the greatest Giant of the 2010's.
2. WR Odell Beckham Jr. (2014-2018)
Now this one is going to piss so many people off and I love it. The same people who say things like "I don't worry about Odell Beckham and I only support players who wear Giants blue" didn't support this man when he wore Giants blue. If you consider what Odell Beckham Jr. did on the field, in just 59 games he etched himself into the top 5 all time in New York Giants history in receiving yards (second overall in franchise history with 5,476), receptions (fourth all time in franchise history with 390), and receiving touchdowns (fourth overall in franchise history with 44).
He also had the most iconic moment in the NFL in the 2010's with his one handed catch. No play was talked about more than his incredible catch this decade. The boomer half of our fan base can hate on the man all they want but he's already a Giants legend, for better or worse. His accomplishments this decade should be celebrated because he put up better numbers per game than anyone on this list.
3. EDGE Jason Pierre-Paul (2010-2017)
The most dominant Edge Rusher of the 2010's for the New York Giants was the great Jason Pierre-Paul. Many Giants fans will remember him as the man who had an unfortunate fireworks accident that resulted in him losing part of his hand, but he should be remembered for being a force to be reckoned with on the Giants defensive line that we haven't had since he was traded for a draft pick that we used on a guy who Pat Shurmur no longer plays.
JPP had a 16.5 sack season in 2011 which was the best of any Edge player in this decade for the Giants. He also had a 12.5 sack season in 2014. His motor was high and he was disruptive in the run game. He was everything that fans should want a Giants player to be. His 58.5 sacks with the Giants ranks seventh all time in franchise history.
Looking back on it, trading JPP was a huge mistake. He's had 19 sacks in 25 games since being traded to the Tampa Bay Buccaneers. The Giants sure could have used that this year and last year.
4. EDGE Justin Tuck (2010-2013)
Speaking of dominant Edge players, Justin Tuck finds himself on this list. It's crazy that when looking at the importance of players this decade that two Edge Rushers find themselves in the top 5. Dave Gettleman should have realized this when he was building our current roster that has just one good Edge rusher.
Tuck was a great leader on this team in the early 2010's. He also had two seasons with double digit sacks this decade (11.5 sacks in 2010 and 11 sacks in 2013). His 3.5 sacks in the playoffs in 2011 were instrumental in helping the Giants win a Super Bowl. His 60.5 career sacks with the Giants ranks 6th all time in franchise history.
5. S Antrel Rolle (2010-2014)
Antrel Rolle spent 5 seasons with the Giants from 2010-2014. While he was a versatile player who was willing to play either safety position and even nickel corner, he also was an outstanding leader who never missed a game during his time in blue.
He had 14 interceptions for the Giants to go along with five consecutive 85+ tackle seasons. He is easily the best safety to play for this team this decade.
6. WR Victor Cruz (2011-2016)
Victor Cruz has arguably been the most interesting player of the decade for the New York Football Giants in the sense that he was extremely dominant for a couple of seasons but injuries derailed what was a very promising career.
In the 2011 and 2012 season, Victor Cruz combined for 168 catches, 2,628 yards, and 19 touchdowns in 32 games. From 2013-2016 he combined for just 135 catches, 1,921 yards, and 6 touchdowns in just 35 games. If he was healthy then the later part of his career likely would have been just as dominant but unfortunately for him and for the team, he just couldn't stay on the field.
Still, the Patterson, NJ native gave the Giants fans a lifetime of memories in a short time. His rags to riches story going from an undrafted free agent to a Super Bowl champion is one of the best stories in New York Giants history. We will always love Cruuuuuzing whenever he comes back to games, too.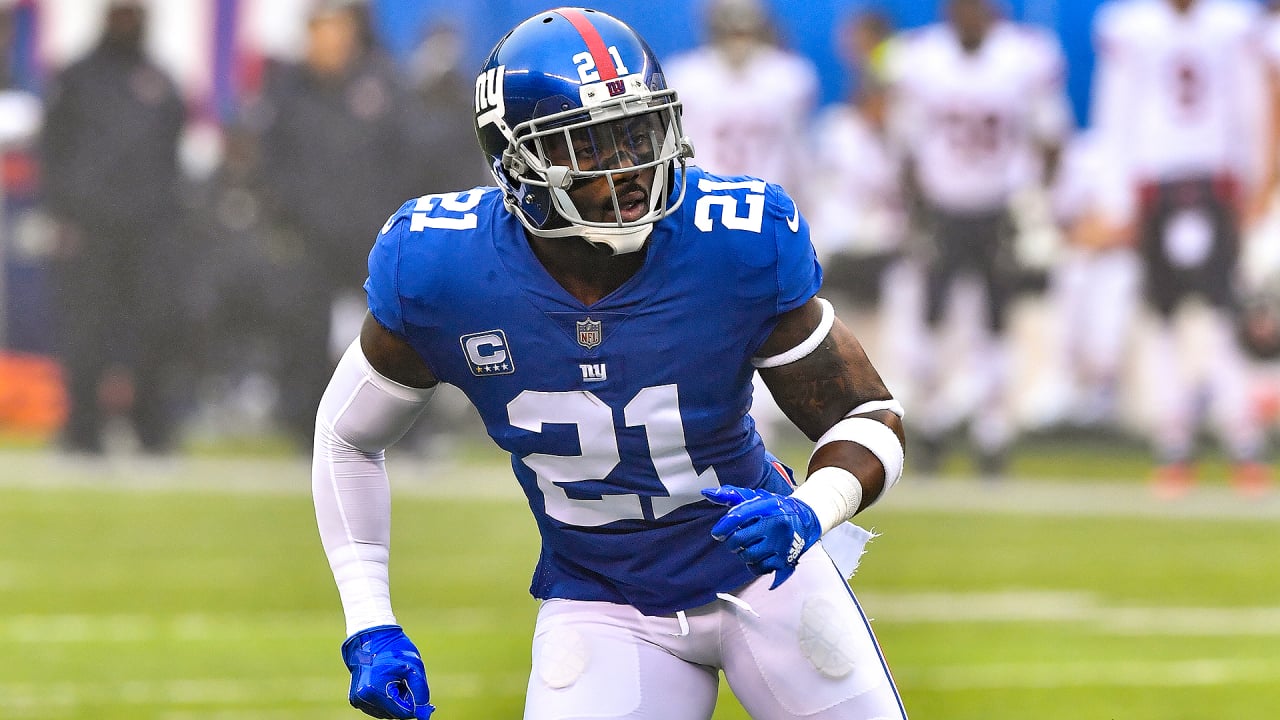 7. S Landon Collins (2015-2018)
Again, if you're a boomer Giants fan who gets triggered easily then you're not going to want to read this one. Landon Collins was absolutely one of the best Giants players of the 2010's. As a safety, he was a defensive player of the year candidate during our 2016 season in which he was a large part of why the team went 11-5.
Collins never had less than 96 tackles in any of his four seasons with the Giants and he was a force to be reckoned with in the run game. While many fans cry and complain that he was a bad player because he was weak at covering tight ends, it should be noted that if the Giants just played him in the box like a linebacker-safety hybrid that he would have continued to be an elite player for this team for a long time.
8. CB Dominique Rodgers-Cromartie (2014-2017)
Dominique Rodgers-Cromartie (DRC for short) was an outstanding player for the Giants during his tenure with the team. In 61 games he had 11 interceptions and possessed the ability to play both outside corner and slot corner. He also had 47 pass break ups during his time with the team. He was easily the team's best corner of the 2010's when you consider all facets of the game like leadership, versatility, and overall talent.
9. WR Hakeem Nicks (2010-2013, 2015)
Hakeem Nicks was another wide receiver whose career was derailed early due to injuries. The best year of his tenure with Big Blue was the Super Bowl year in 2011 where he hauled in 76 catches for 1,192 yards and 11 touchdowns. His best moment with the team was catching a hail Mary before halftime in a game against the Packers to suck the wind out of a Green Bay team that we'd go on to beat.
Nicks ranks top ten in Giants history in receptions (318) and yards (4676). His 27 touchdowns with the team are also tied for 12th in franchise history. You can add him into the Victor Cruz category of "what could have been" with him as a wide receiver.
10. CB Corey Webster (2010-2013)
Corey Webster's career was like a fine wine that got better and better with age. From 2010-2012 he had 14 interceptions for the team and he was a bonafide shutdown corner who defended 40 passes in that time as well. His 20 career interceptions with the Giants ranks number 1 in franchise history for players who have suited up in this millenium.
Who did I miss? Let me know in the comments on Facebook.com/Giants366 or tweet me @Dancouver95.